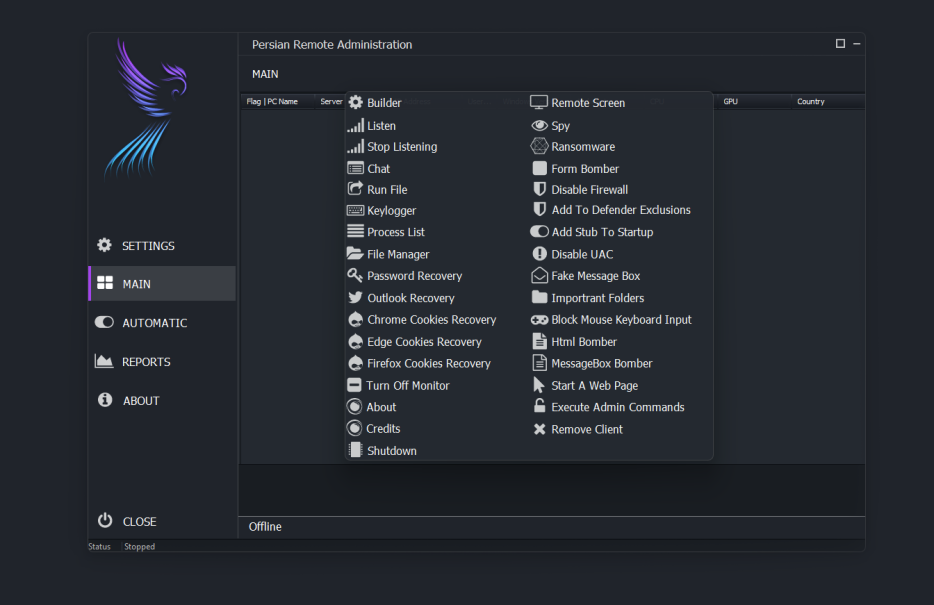 Persian Remote
About US
"Welcome to Persian, a leading provider of cutting-edge remote access solutions and advanced crypters. With our innovative technology and deep expertise, we empower individuals and businesses worldwide to connect, collaborate, and secure their digital environments.
At Persian, we understand the importance of seamless remote access in today's interconnected world. Our range of remote access tools offers unparalleled flexibility, allowing you to effortlessly access and control your devices from anywhere, anytime. Whether you're a remote worker, IT professional, or simply seeking convenient access to your personal devices, our solutions enable secure and efficient remote connectivity.
In addition to our remote access offerings, we specialize in advanced crypters designed to enhance the security and privacy of your sensitive data. Our crypters employ state-of-the-art encryption techniques, ensuring your files and communications remain confidential and protected from unauthorized access. With our solutions, you can confidently safeguard your valuable information without compromising on performance or usability.
What sets us apart at Persian is our commitment to excellence and customer satisfaction. We prioritize user-friendly interfaces, seamless integration, and reliable performance in all our products. Our dedicated team of experts continuously researches and develops innovative solutions, staying ahead of emerging threats and industry trends. We strive to deliver exceptional value and empower our clients with the tools they need to thrive in the digital landscape.
Whether you're an individual, a small business, or a large enterprise, Persian is your trusted partner for secure and efficient remote access and advanced encryption. Join our growing community of satisfied users and experience the difference that our technology can make.
Choose Persian for unparalleled remote access tools and cutting-edge crypters. Empower your digital world with secure and seamless connectivity. Contact us today to learn more about our comprehensive solutions and how we can support your specific needs."
Features
Features
Chat
Run File
Keylogger [ Automatically Logging Cards, Sends US Back As Notification ]
Process List
File Manager
Password Recovery
Outlook Recovery
Chrome Cookies Recovery
Edge Cookies Recovery
Firefox Cookies Recovery
Fun Menu [ block keyboard and mouse, html bomber, message bomber, sign off pc, crazy mouse, execute command, start a web page, crazy time, turnoff monitor, play beep? ]
Remote Screen
Spy [ Automatically Tracking If Victims Browsing Bank Websites, Sends US Back As Notification ]
Fake Message Box
Importrant Folders
Remove Client
About
Always FUD.
[/center]