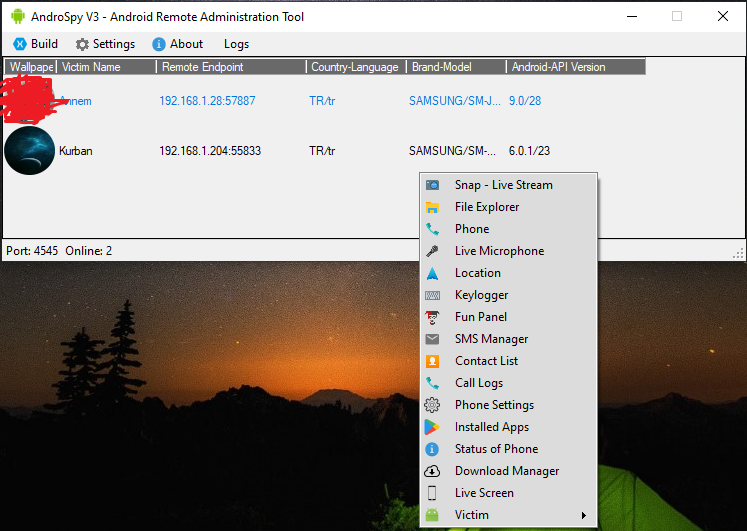 AndroSpy v3 - Xamarin-C# Android RAT [Fusion Edition]

You can multiple operation handle; multiple files upload and download, while watch live cam or screen watch, download or upload files multiple.
Builder error fixed. Now there no will be error.

Performance increased.
while Doze Mode (sleep mode) your victim can connect by hand Alarm Manager to server and communicate wtih you.
If server has no internet, victim can re-connect to server while internet avaible on Server.
Snapshot from camera is currently disabled by me. [I'm too lazy for re-coding this for new Socket instance :)].
Added settings for emui devices(huawei, oppo, honor etc....) for background working.
and some bug fixing, performance stabilisations etc......
Snap Live stream
File Explorer
Phone
Live Microphone
Location
Keylogger
Fun Panel
SMS Manager
Contact List
Call Logs
Phone Setting
Installed Apps
Status of Phone
Download Manager
Live Screen
Victim
ICQ:653580170
Whatsapp +79017473945
jabber: russianhackerclub@jabber.ru
Download Link 1
Download Link 2
Download Link 3