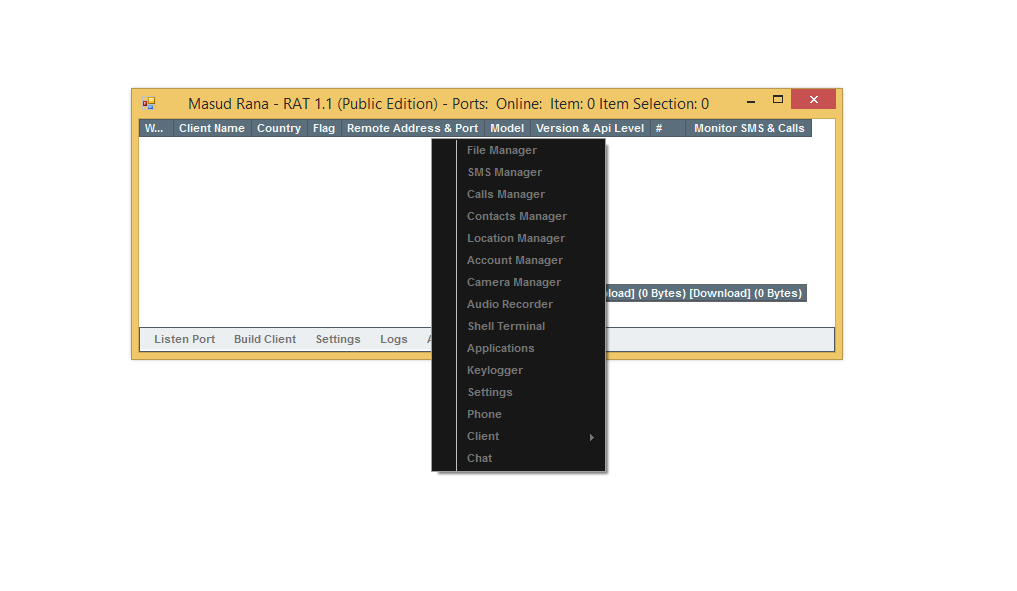 Masud Rana RAT Cracked
Masud Rana RAT : If you want to know how to hack an android phone for free without any knowledge, then you've got the return to the proper place. Introducing Masud amphibian genus automaton RAT the remote administration tool for hacking automaton devices. With this tool, you'll be able to hack any device over the net. Masud Rana RAT (Remote Administration Tool/Remote Access Trojan) is one of the simplest and FUD RAT these days. This can be a public edition of Masud Rana RAT (Spynote Modified/Alternative). It is an alternate and changed version of spy note rat. This edition may be detected by some antivirus. it's undetectable to Google Play Protection once we square measure uploading it. to stay it undetectable PLEASE don't transfer it in virus total or any cloud analyzing engine.

About Masud Rana Android RAT :
It may be a moded version of spy note rat. it's a fud rat with several options. Masud Rana RAT v1.1 may be a public version rat. It's undetectable by several in style antiviruses. It's additionally undetectable to Google Play Protection. Its program developed supported Java.
Masud Rana RAT may be a remote administration tool (RAT for short) with that you'll be able to hack any automaton device and create custom trojans and keyloggers. you'll be able to additionally create trojans and viruses from existing app files.
Masud Rana RAT Features :
Get GPS Location.
Bind your server APK with the other Game or App.
Read/Write Messages.
Fun Panel (Show messages, shake the phone, etc)
Make a decision, record a decision and browse decision logs.
Read and write the contact list.
Explore Files with full access.
Capture photos and videos.
Check browser history.
Check put in apps.
Listen to live oral communication through the mic, record mic sound live.
Get the phone's info (IMEI, WIFI MAC, PHONE CARRIER).
Undetectable to Huawei/Xiaomi default antivirus engine.
Undetectable to Google Play Protection
Updated ApkTool (2.4.0).
Updated and a lot of stable graphical user interface with multi-core support.
Support automaton 8.1
ICQ:653580170
+79017473945
jabber: russianhackerclub@jabber.ru
Download Link 1
Download Link 2
Download Link 3